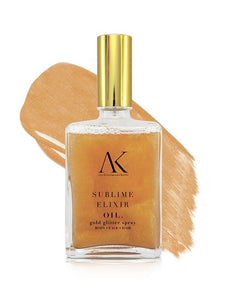 Alika Cosmetics
SUBLIME ELIXIR
* Gold Glitter Oil Spray *
Alika Cosmetics presents the new Sublime Glitter Gold Spray Oil, a precious and indulging hair and body product for your pampering sessions. Sublime Oil is the perfect ally of all women who want to enhance their figure (particularly legs, arms and cleavage) and show off luminous and healthy skin. Sublime Oil is the next-generation dry oil with an ultra light precious texture and exclusive formula that hydrates and gives light to your skin and hair.
Deep hydration and a luminous sensorial experience!
The oil's exclusive texture is dry, light, subtle and precious. Rich in platinum and golden glitter for a luminous look, the oil ha salso deep hydrating qualities and a delicately seducing fragrance.
The formula is made up of a mix of natural oils, like olive oil vegetable squalane, a skin-kind element that prevents dryness and improves elasticity. Peach kernel oil with its hydrating qualities and sweet almond oil for increased elasticity. Borage seed oil, rich in omega 3 and 6, calendula and hypericum extracts, vitamins C and E complete the formula for a sparkling, soft, luminous and elastic skin.
Sublime Glitter Gold Spray Oil can be used all year round as it offers hydration and light to the skin, and enhances the skin's natural tan during the summer season. Thanks to its light formula, the application is practical and easy, leaving no greasing sensation on the skin, and allowing to wear clothes immediately.
Sublime Glitter Gold Spray Oil can also be applied on hair for increased luminescence. The oil can provide a sensual glowing finish for your hair, or it can be used a glamourous balm for deep hydration.
Application advice
Body: spray on the skin from a 10cm distance, then massage until fully absorbed.
Hair: apply on your hand and then massage onto damp or dry hair. The oil can be used as a balm, apply and let it rest for 10 to 15 minutes before washing away with shampoo.